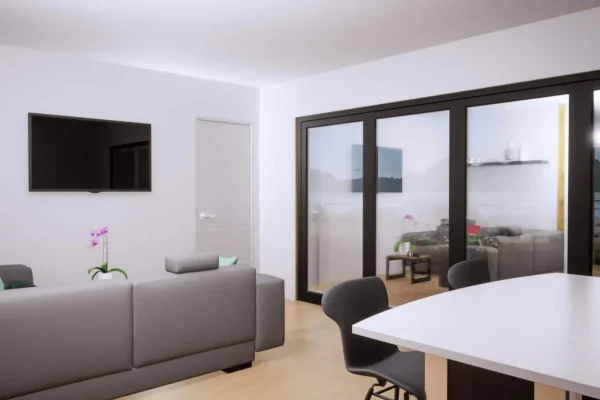 Where luxury meets innovation.
Open the doors to a new way of holiday living, our Eden encapsulates interior luxury design whilst on the outside the sleek modern look holds the key to a new era.
Request a Brochure
Interior light is in abundance in the 915 square foot Eden lodge, with its open plan layout, large bi-fold or sliding doors and integrated windows in the duo pitched roof this really is the perfect combination for contemporary living with a view
Our lodges use underfloor heating and by implementing airtight and thermal enveloping we can retain more heat creating the perfect space for those cold winters nights.
The Eden Lodge is also available in a 990 square foot model.
Using a modern method of construction and the latest in photovoltaic technology we have a created the first energy positive lodge of its kind. The all-electric Eden goes beyond Net Zero and creates enough energy to power the lodge but also creates circa 10,000KwH per year in excess energy that can be used to power other onsite facilities such as bar, restaurants, hot tubs, swimming pools, electric vehicles or with the addition battery storage systems this energy can be monetised by the sale to the grid.
The Eden lodge has an energy generation maximum capacity of 21,450kWh – these are subject to orientation, shading and grouping so for a real-world figure.
On average a lodge would use between 3000-4000kWh per annum meaning there could be an excess of renewable energy.
All our products are built to last and exceed the BS3632 standard . They also come with long warranties and a first class after sales service giving you the peace of mind for now and the future.